Editor's Note: In an ESPN exclusive, President Barack Obama filled out his bracket predictions for the 2015 NCAA Division I Men's Basketball Championship this week with ESPN.com senior writer Andy Katz. SportsCenter unveiled his bracket on Wednesday. This morning, SportsCenter featured ESPN college basketball analyst Rebecca Lobo's look at the President's predictions for the 2015 NCAA Division I Women's Basketball Championship. At the culmination of the Final Four, both bracket boards will be sent to the Smithsonian's National Museum of American History for an exhibit that will open in 2017. In this Front Row post, Katz provides his thoughts about working with President Obama for the seventh year and the prospect of having the brackets preserved in the Smithsonian. Lobo also reflects on her second year of "Barack-etology."
WASHINGTON, D.C. – The beauty of this trip to the White House is the normalcy of the event.
President Barack Obama has filled out the NCAA tournament bracket for us on camera seven years in a row. And while the routine never gets old, the comfort level continues to grow.
The first few years, the event had become a lightning rod of partisan behavior by the opposition. Now? Republicans, future GOP 2016 candidates, and Democrats alike don't hesitate to put out their brackets and make predictions.
Prior to going to the White House Tuesday, I joined my "Capital Games" co-host Rick Klein to solicit picks on the Hill. Congressman Paul Ryan (R-Wis.), a former GOP Vice Presidential candidate, was well-versed on the season, a number of teams in the bracket and of course his native Wisconsin Badgers.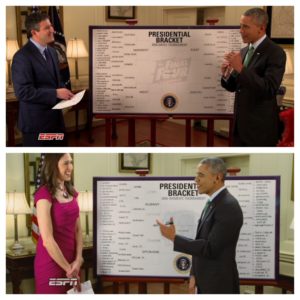 Possible GOP candidate Jeb Bush tweeted out he had picked Virginia. But there is only one Baracketology and since we were the first to get a president's bracket, there is interest beyond ESPN and the White House.
The Smithsonian has asked for the men's and women's bracket boards for an exhibit on how a president relates to the public (slated to open in 2017). Now, if you want to know how much this has been accepted as the norm, look at this as an example.
The Smithsonian wants the bracket boards? Are you serious? Yes.
That shows how much this idea has blossomed. There's no way I would ever believe that asking then Sen. Obama in a conference room in Dunn, N.C., about filling out the bracket in the White House would turn into the National Museum of American History requesting the bracket boards.
This has become a yearly tradition that is as unique as any other.
Rebecca Lobo's perspective on women's 'Baracketology'
ESPN basketball analyst
Rebecca Lobo
visited the White House for the second straight year to be a part of "Barack-etology," as President Obama
filled out his NCAA Women's Basketball Championship bracket
for the sixth time in as many years. While most of his selections were to be expected – UConn, Notre Dame and South Carolina – the President went off chalk for personal reasons to advance undefeated Princeton to the Women's Final Four. Lobo said: "I had another great experience filling out the brackets with President Obama this year. He immediately told me that he was going to be talking about Princeton a lot since his niece [Leslie Robinson, daughter of ESPN college basketball analyst
Craig Robinson]
plays for the team. It was very clear that he is extremely proud of her. My favorite part was when he gave us a scouting report of his own game these days. I believe the quote was, 'It's broke'. He was funny and self-deprecating and just great to be around."
– By Rachel Siegal
ESPN's Features Unit produced the time-lapse video