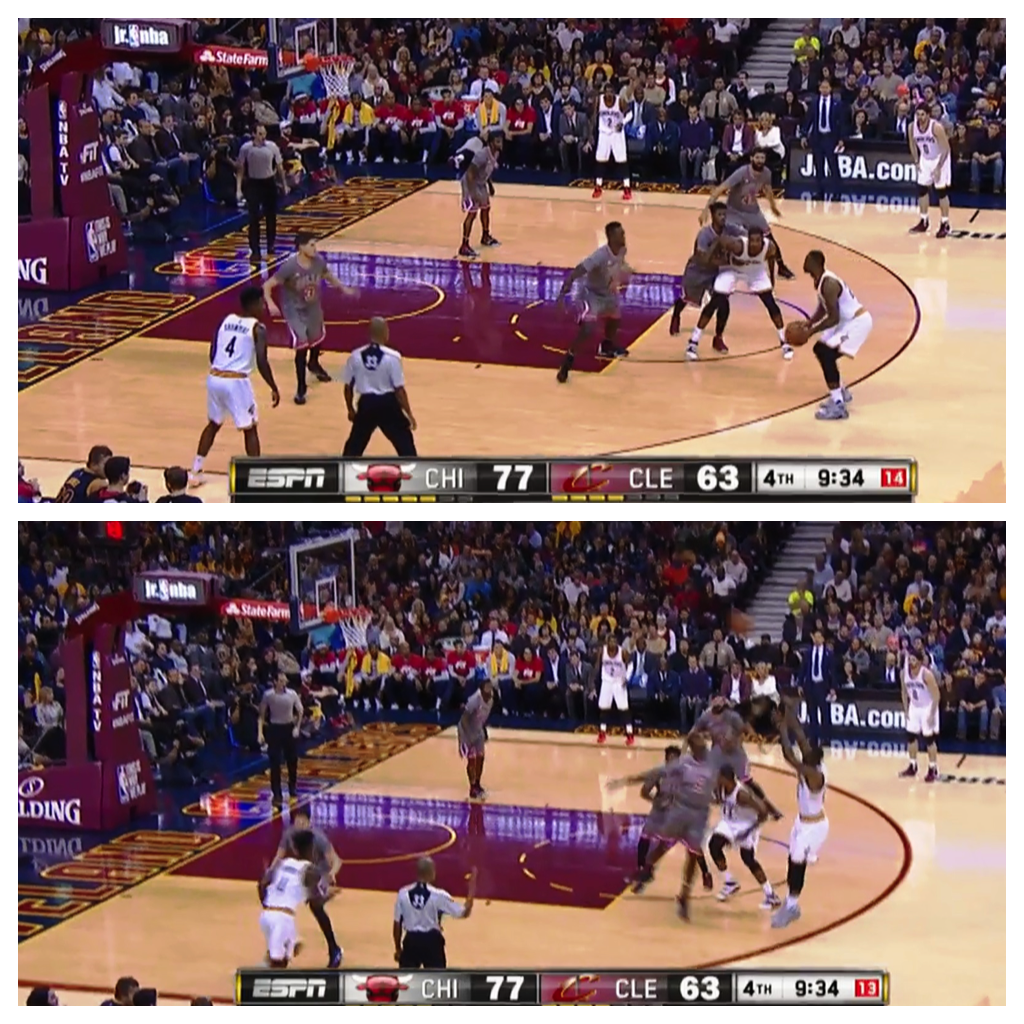 ESPN Senior Vice President, Production Innovation, Jed Drake, is used to being at the forefront of cutting-edge technology.
From the 1st and Ten line, to K-Zone, to Pylon Cam, Drake and his colleagues have been at the helm for game-changing technological innovations, which have enhanced the viewing experience for fans.
Now, another: "ESPN Virtual 3."
A new technology, "ESPN Virtual 3" will debut this weekend on NBA Saturday Primetime on ABC (San Antonio at Cleveland, 8:30 p.m. ET). "ESPN Virtual 3" will illuminate the 3-point line on the court to verify that the attempt is a 3-ball. Drake spoke with Front Row about how the idea came together.
What was the objective behind the creation of "ESPN Virtual 3" technology?
We are always working to enhance the viewing experience through technology, and since we're going to be partners with the NBA for a very long time, it made a great deal of sense for us to pursue this kind of initiative. In televised basketball there are simply times when the viewer cannot be certain that a 3-point attempt is valid. With "Virtual 3," our viewers will know instantly. We really think that fans will grow to enjoy this instant verification.
In technical terms, how does "ESPN Virtual 3" illuminate on the screen?
In short, we are creating a virtual line over the existing 3-point line. And that's actually quite complicated. We have to perfectly match the existing line, and then mask it. On the television screen, the three-point line is only a few pixels wide, and it's obviously curved. Then, there are significant challenges brought to bear from the players' uniform colors and the color of the line possible being identical. Remember: The virtual line needs to give the appearance that it is actually on the court surface with players running over it. While it looks very simple, it's incredibly challenging. We spent a great deal of time on mapping, occlusion and keying.
Our folks at the Princeton Visual Technology lab have done an exceptional job. And that is one of the many great things about this system – it was developed all in-house. This group, under Vice President, Visual Technology, Marina Escobar and Vice President, Technology Enhancements, Jay DiGiovanni, created a large number of new algorithms, specifically for this project. It was an eight-month development run in complete sync with our Production Enhancement group and our Operations department. It's awesome to see so many groups working closely towards one groundbreaking technological enhancement.
How does "ESPN's Virtual 3" add to the company's legacy of innovated technologies such as 1st and Ten, Pylon Cam, K-Zone and more?
ESPN has a long history of "firsts" with new technology systems. First and Ten, and the K Zone won Emmys for Innovative Technical Achievement. Pylon Cam has been an even bigger success than we could have imagined, with game-changing calls being made as a result of the camera angles we created — a true game-changer. And now with "Virtual 3," we hope to bring greater excitement to the telecast and to heighten the viewing experience for our fans.
Senior coordinating producer Tim Corrigan and I have had more conversations about "Virtual 3" than you could ever count. And his clear directive has been to make sure we complement the coverage, without creating distraction. That's a great mandate, for this system, and for all future technology systems.