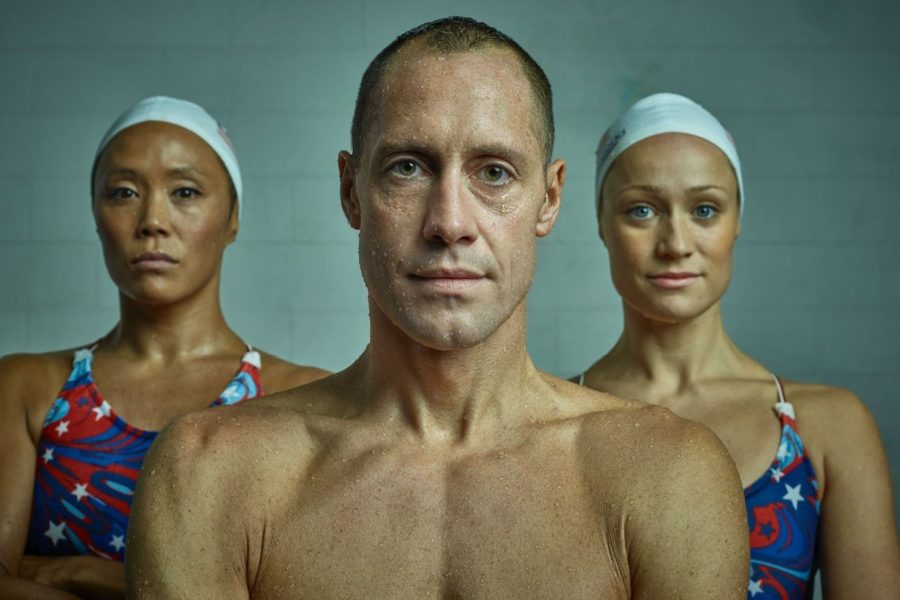 Earlier this week, ESPN Digital & Print presented a unique cross-platform story about Bill May, America's lone male synchronized swimmer, and his improbable quest for Olympic gold. It is a story about a man called out of retirement at still a very young age – May is 37 – to chase his dreams. It's also a story about synchronized swimming, a sport that is allowing men to compete to increase its following. Contributing writer Taffy Brodesser-Akner shared some insight on her experience developing such a story, featured in ESPN The Magazine's Golden State Warriors issue on newsstands today:
How did this story come together?
A long time ago, I taught a reported essay class, and one woman, a terrific writer named Aizita Magana, chose to bring in chapters of her book-in-progress, which was kind of a biography of the breath. It was fascinating. One of her chapters was on synchronized swimming. I told her she should do a bigger article on it, but she was dedicated to the book. About three years later, when I found out FINA [the international governing body of aquatic sports] was allowing men to compete, I asked her if she wanted to write the story, because if she didn't, I did. To my endless gratitude, she didn't and gave me her blessing to proceed.
What did you find most challenging about this piece?
There are a lot of clichés in writing about synchronized swimming — there's a tendency to make fun of the swimmers for their flamboyance; that "SNL" ["Saturday Night Live"] sketch keeps coming up. My first editor and I thought the best move was to take all of this very seriously, but by the time I got to know the swimmers, I knew I had no choice but to do that anyway.
What has been the most interesting response to your story?
The best response so far is that as far as I know, Bill May hasn't read the story. He texted me to say sorry, he's been in the pool, people keep telling him how great it is but he's at practice. And that's the essential "Bill Mayness" right there.
"The Golf Scientist" features a young phenom prepping for the Masters
Sunday's SC Featured on SportsCenter tells the story of a 22-year-old amateur golfer from Clovis, Calif., who will tee it up in the Masters Tournament next week in Augusta, Ga.
Bryson DeChambeau earned his first trip to the Masters by becoming only the fifth golfer in history to win both the NCAA Division I Championship and the U.S. Amateur in the same year. But the SMU golf team member got there in the most unorthodox and scientific ways. Gene Wojciechowski reports on the story of the young golfer and his unique techniques that earned him the right to drive down Magnolia Lane.
"I don't spend a lot of time with physics majors who just happen to win the NCAA's and the U.S. Amateur, who have the strangest-looking clubs I've ever seen, who can sketch Ben Hogan's likeness to perfection on an artist's pad, who makes breakfast for his old man, and lives — absolutely lives — for the chance to spend an entire day and part of the night perfecting his one-of-a-kind golf swing," said Wojciechowski, who will be part of ESPN's coverage team at the Masters.
"I walked away from our 15 hours with Bryson thinking, 'This kid might be on to something.'"
"The Golf Scientist," produced by Jon Fish, will debut in the 10 a.m. ET edition of SportsCenter and will re-air in other editions of the program throughout the day. The feature also will air in SportsCenter's coverage of the Masters Tournament. – Andy Hall

Journalism on Display
With the University of Connecticut Huskies on the cusp of a fourth straight national title, ESPN.com focused this week on UConn senior Breanna Stewart. In "Being Breanna Stewart," writer Elizabeth Merrill writes that Stewart comes across as "Stewie," the goofy kid, but has a killer instinct underneath.
When she arrived in Storrs, Stewart said she wanted to win four straight national titles, a feat no one has ever accomplished. As UConn gears up for another Final Four run, Stewart looks primed to achieve her goal and solidify her place in history.
Sunday morning's edition of Outside the Lines (ESPN, 9 a.m. ET) also will key on the UConn team, which, on the brink of its fourth consecutive national title, is prompting some to wonder: "Is being too good bad for the sport?"
In ESPN The Magazine's Golden State Warriors Issue on newsstands today: "Golf Confidential": Before the Masters, golfers anonymously dish on who they think will finish No. 1 this year, whether Tiger Woods will win his 15th championship and if golfers care about winning a gold medal at the Olympics. Written by Hallie Grossman, the report also will appear on ESPN.com on Monday, April 4.
Panelists on Sunday morning's The Sports Reporters (9:30 a.m. ET, ESPN; 10 a.m., ESPNEWS; 10:30 a.m. ESPN2) will be John Saunders (host), Mike Lupica, Manish Mehta and Bob Ryan. – Andy Hall