Anchors
ESPN Careers
Soccer
Walt Disney Company
Who Does That?
4 Things to Know about ESPN's Multiplatform Coverage of the 255th ElClásico from Barcelona
ESPN's exclusive coverage of ElClásico, the famous club soccer match between LALIGA rivals FC Barcelona and Real Madrid CF, begins today through matchday Saturday. Here are a few reasons ESPN's presentation is top of class
Saturday on ESPN+ and ESPN Deportes, FC Barcelona will face Real Madrid for the 255th ElClásico and their first meeting of the 2023-24 campaign. ESPN's exclusive, multiplatform coverage live from Barcelona began today. Here are 4 Things to Know:
ESPN Stats and Information Group (SIG) is integral to covering LALIGA's ElClásico
The SIG team behind the scenes is the core contributor for how fans consume ElClásico content across ESPN platforms. It supports live event, digital and social platforms with smart, fast and accurate content.
"We provide 'the 'hook' — the context and source for key matchup storylines — that give fans a better understanding of the biggest rivalry in club soccer," said Eduardo Souss, manager, ESPN Stats & Info Group.
Staff preparing for ElClásico dive into player storylines like Vinícius' one-on-one duels with Araújo or connections between Robert Lewandowski and Pedri in goals assists to each other. SIG mines its trove of information data to find the most compelling angles soccer fans crave.
On-air info graphics are a staple of ESPN's critically acclaimed SIG team. Examples above illustrate how their stats and info plays an important part not only on-air, but for social media as well.
ESPN Marketing's campaign spot for the 255th ElClásico
Leading up to matchday Saturday, ESPN's award-winning marketing department launched a promotional spot for the most-watched and talked-about match in club soccer. The spot features John Newman – Love Me Again – an iconic EA SPORTS FIFA track from the early 2010s – and features clips of some of the brightest players in soccer, including Real Madrid's Jude Bellingham and Vini Jr. , along with FC Barcelona's Robert Lewandowski.
Former soccer stars and ESPN ElClásico commentators Steve McManaman (Real Madrid) and Luis Garcia (FC Barcelona) will share their first-hand experiences of what it was like to stand on the pitch representing one of the top European soccer clubs in this fierce rivalry game on ESPN+ and ESPN Deportes.
A product of FC Barcelona's vaunted "La Masia" youth football academy, Garcia played for Barça's senior team. McManaman played for Real Madrid in the era of the Galacticos, considered the greatest collection of star players on one soccer team.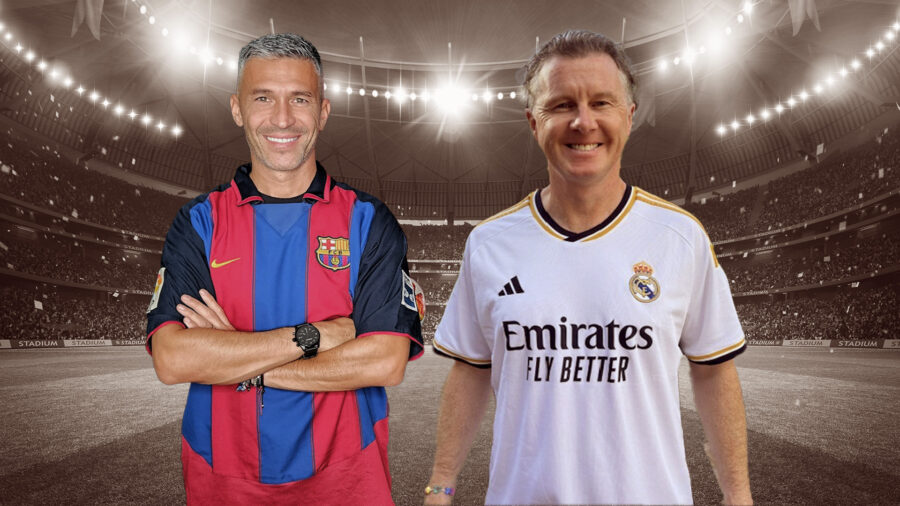 Join the LALIGA-ESPN ElClásico watch parties on Saturday
LALIGA fan groups, called "peñas," can join El Partidazo in five cities – Miami, New York, Boston, Washington, DC and Chicago – to celebrate ElClásico.
El Partidazo is LALIGA's marquee fan engagement and event platform designed to bring Spanish football closer to fans in the United States.
Ex-Barcelona star Javier Mascherano will headline El Partidazo in Miami. The former Argentina National Team player, who played in over 20 ElClásico games and won four LALIGA titles, will interact with fans, and appear on ESPN+ and ESPN Deportes shows from Miami.
For more #ElPartidazo  information, click here.