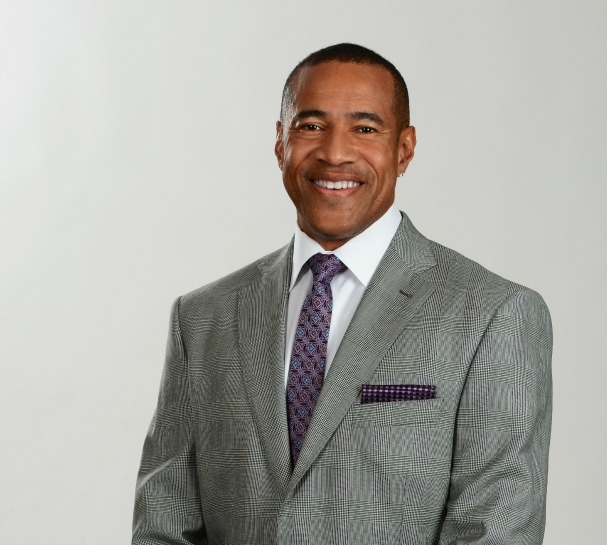 Today, ESPN announced the re-signing of veteran play-by-play commentator Mark Jones in a multi-year agreement.
Jones, a 27-year veteran of ESPN, became the voice of the popular NBA Sunday Showcase series on ABC this season. His NBA role also includes additional high-profile assignments, including the NBA on ESPN, the NBA Playoffs and the NBA All-Star Celebrity Game, which is this Friday (ESPN, 7 p.m. ET).
Following news of Jones' contract extension with ESPN, Front Row caught up with him to learn of his career highs and his experiences working at ESPN:
How do you feel about extending your tenure with ESPN and what has kept you here for over 27 years?
I was thrilled to be able to continue working with so many extremely talented people at ESPN who I consider family after 27 years. The energy and creativity that I feel before the red light goes on are what makes it so much fun. When I get approached by African-American college graduates who tell me they want to do what I do, it makes me feel like I've had a social impact on the landscape.
After covering the NBA for three decades, what did it mean to you to become the voice of the NBA Sunday Showcase series?
It's been a pretty riveting ride for me. It began as a young kid watching the old NBA Buffalo Braves. Then in 1990, I was hosting The NBA Today Show with the late, great, Hall of Famer Dr. Jack Ramsay. To be able to call some of the best games on Sunday afternoons and be able to convey some of the excitement and compelling story lines of the world's greatest athletes is something I consider an honor.
What do you consider to be your top two or three career highlights at ESPN thus far?
I interviewed then-President Barack Obama in 2012 at the Verizon Center in Washington, D.C. when the USA played Brazil on their way to the Olympics and then an eventual goal medal. Another personal career highlight was when I had a chance to call the NBA Finals in 2011 between the Dallas Mavericks and the Miami Heat for ESPN 3D.
I also met my then-future wife hosting the 1995 Outdoor USA track and field championships in Sacramento, Calif.
Ben Cafardo contributed to this post.