As ESPN has continued to adapt its daily lineup to best serve fans with many major sports on hold, it has provided unique opportunities for on-air personalities to thrive in new ways by contributing to other shows or different platforms.
Recently, some of the anchors of ESPN's marquee news and information show SportsCenter, have become regulars on ESPN Radio's weekend programming. Saturday, Randy Scott and Nicole Briscoe will host Dari & Mel (10 a.m.-1 p.m. ET); Sunday, June 21, Michael Eaves will co-host GameNight with Taylor Twellman (9-11 p.m.).
"The dedicated efforts that each of our multi-talented SportsCenter hosts put into their TV work behind the scenes and on-air has enabled them to transition seamlessly to their radio assignments. With gusto, lots of research and fun, they've been able to regularly engage with sports fans in a meaningful, new way during this time," said Mike Urrunaga, ESPN Radio producer.
"Credit coordinating producer Amanda Gifford, senior coordinating producer Jack Obringer and all the great teamwork from the show producers that have made this a really positive experience for our listeners."
Many of the anchors share their thoughts completing the sentence below.
It has been great working for ESPN Radio because …
---
KEVIN CONNORS
" . . . IT'S ALLOWED ME THE CHANCE TO WORK WITH A GROUP OF SUPER-TALENTED INDIVIDUALS WHO ARE AS PASSIONATE ABOUT CREATING ENTERTAINING AND INFORMATIVE SPORTS CONTENT AS I AM.
In my 12 years at ESPN, I've been fortunate to work as a
SportsCenter
anchor, multi-sport studio host, field reporter, play-by-play broadcaster and now radio host, and this experience has been as rewarding as any."
---
MICHAEL EAVES
"… IT'S BEEN A REALLY FUN WAY TO STAY CONNECTED TO THE FANS
, while also getting the chance to work with some ESPN colleagues outside of
SportsCenter
."
---
NICOLE BRISCOE
" . . . GETTING TO DO ADDITIONAL WORK FOR ESPN RADIO IS BOTH FUN AND CHALLENGING.
It's an opportunity for us to reach more people, but radio is different than TV. It takes us outside our normal comfort zone. I think it helps make us more well-rounded broadcast professionals."
---
ZUBIN MEHENTI
" . . .IT ALLOWS ME TO WORK WITH COLLEAGUES I RARELY GET A CHANCE TO WORK WITH BUT WHOM I ADMIRE.
For example, [ESPN soccer analyst]
Taylor Twellman
and [SEC Network anchor and reporter]
Alyssa Lang
. This opportunity has given me the chance to branch out a bit and work in tandem with talented people outside of the
SportsCenter
project."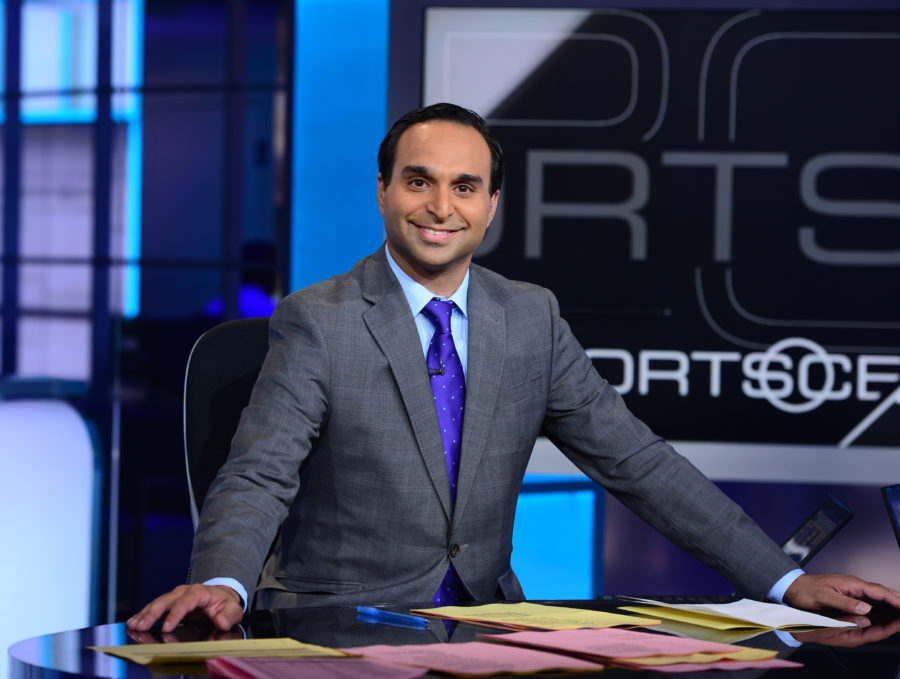 ---
RANDY SCOTT
" . . . IT'S GIVEN ME AN OPPORTUNITY TO HAVE A LARGER CONVERSATION ABOUT THE THINGS THAT MAKE MY 'DAY JOB' MY DREAM JOB.
SportsCenter
has such a great pace. We move so quickly through the games, storylines, highlights, and information of the day. ESPN Radio encourages us to find the stories that deserve a larger dialogue and gives you the time and the space to talk it out. Doing one job, having one role, makes me better at both jobs, both roles. Ad-libbing and thinking on your feet are necessary skills on
SportsCenter
and on radio, and I'm thankful for the opportunity to get better at both."