(L-R): Lawrence Goss (FAMU), Takier George (Howard), and Kamryn Jackson (NC A&T) interview Danny Johnson of the NFL's Washington Commanders. (Kimberly Jarvis/ESPN)
(L-R) George, Jackson and mentor Rhoden report from an MLB press box. (Kimberly Jarvis/ESPN)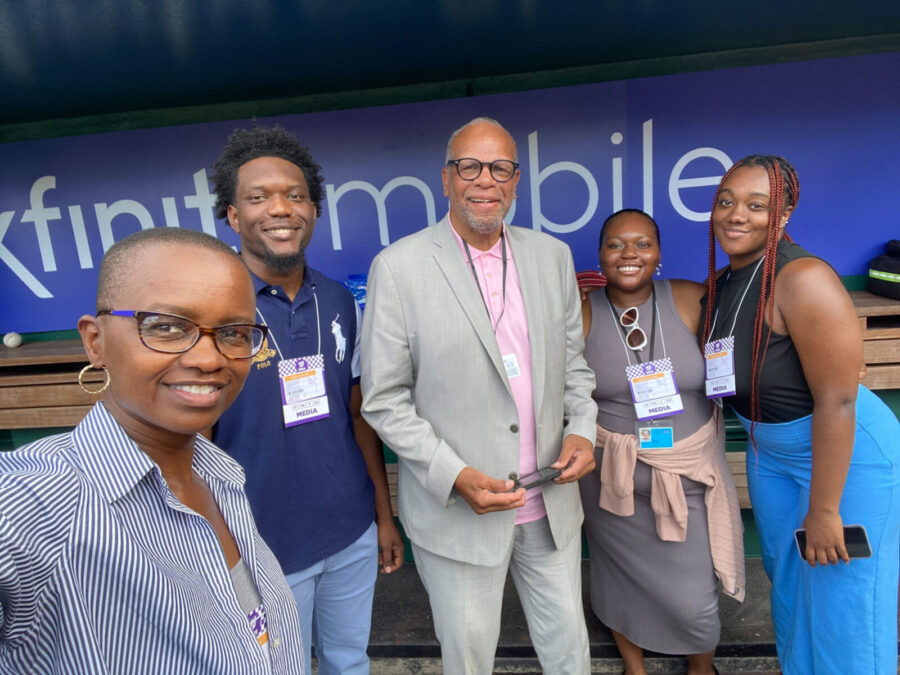 (L-R) Kimberly Jarvis; Rhoden Fellow Lawrence Goss; William Rhoden; Rhoden Fellows Takier George and Kamryn Jackson (Kimberly Jarvis/ESPN)
EDITOR'S NOTE: Once again this summer, Front Row's Intern Chronicles series showcases some of ESPN's summer interns. For more information on ESPN Internships, visit the ESPN Careers site. On Aug. 10, The Walt Disney Company and UNCF (the United Negro College Fund) announced the 2023 Disney UNCF Corporate Scholars, representing students from four-year institutions across the country, including many Historically Black Colleges and Universities (HBCUs).
The Rhoden Fellowship nurtures the next generation of sports journalists from historically black colleges and universities. This initiative is under the stewardship of Andscape's editor-at-large and former New York Times award-winning columnist, William C. Rhoden.
The Washington, D.C.-based fellowship aligns with Andscape's strategic vision to foster diverse voices within the realm of sports journalism.
The seventh class consists of Takier George from Howard University; Lawrence Goss from Florida Agricultural and Mechanical University; and Kamryn Jackson from North Carolina Agricultural & Technical State University.
Since June 2023, the trio has reported on several significant events, including the MLS All-Star Game, multiple Washington Nationals MLB games, and NFL training camps for both the Baltimore Ravens and Washington Commanders. They are developing a podcast that will be produced through the end of their fellowship in May 2024.
I spoke with the Rhoden Fellows about their experience working at Andscape before they return to their respective campuses this fall where they will continue to serve as campus correspondents for Andscape through the end of the academic year.
Goss: "My first month being a Rhoden Fellow has been nothing short of an amazing experience. I have met multiple different professionals and have learned so much from them. Along with the learning and networking experiences, I have seen different sets from ESPN programs that I have been watching for years. Even yesterday, the group and I went down to the studio to see Pardon The Interruption being taped live; PTI used our voices for the live show opening.
In July, I was in Seattle, covering the HBCU Swingman Classic for the MLB All-Star Week. I can only look forward to the rest of my tenure as a Rhoden Fellow and what it holds for me."
Developing new voices for the next generation 🎙️@WCRhoden started Rhoden Fellows to serve as an incubator for future multicultural journalists.

Hear how it all started ⤵️@SimplyAJ10 | @sportswcoleman | @BaltimoreBanner pic.twitter.com/nywbUhsFC9

— The Adam Jones Podcast (@AdamJonesPod) April 1, 2023
Jackson: "Being a Rhoden Fellow has been the experience I've yearned for in my young journalism career. Getting to know so many influential people in the industry and learning how to become a better journalist is one of my top priorities this summer.
I've written a story about a new dance team on my HBCU campus, and also coming up with story ideas for some upcoming trips to a [WNBA] Washington Mystics game and a few training camps."
George: As a member of the seventh class of Rhoden Fellows, I've already learned so much and I can't wait to see where the fellowship takes me.