Earlier this NFL season, ESPN debuted a brand-new Monday Night Football anthem – a reimagined version of Phil Collins' "In the Air Tonight" – with Chris Stapleton and Snoop Dogg on the vocals and Cindy Blackman Santana on the song's iconic drum solo.
Created and executed by ESPN's Creative Content Unit, the anthem is played before each Monday Night Football game, beginning with footage of NFL stars from the two competing teams, followed by the performance from all three musicians.
Blackman Santana recently spoke to the Las Vegas Review-Journal on her involvement in the piece, saying, "It is such an honor to be part of this. It's such an iconic song; the drum fill is iconic, the whole sound of the recording is iconic.
"It is one of the most incredible videos I have ever been in, and the excitement it's bringing is just incredible. A true honor to be involved; I am really humbled by how it has been received."
On Monday night in Las Vegas, ESPN and the Raiders hosted local resident Blackman Santana at Allegiant Stadium for the Monday Night Football game between the Las Vegas Raiders and the Green Bay Packers.
The famous jazz and rock drummer met with MNF commentators Joe Buck and Troy Aikman, appeared on Monday Night Countdown with reporter Michelle Beisner-Buck, checked out ESPN's production truck and met MNF director Steve Ackels, among other members of the production team.
Before kickoff, the anthem was played on a big screen – the jumbotron at Allegiant Stadium.
Blackman Santana joins "Monday NIght Countdown" reporter Michelle Beisner (L). (Al Powers/ESPN)
Blackman Santana visits the production truck. (Al Powers/ESPN Images)
(L-R) Joe Buck, Cindy Blackman, Troy Aikman pose on the Allegiant Stadium field. (Al Powers/ESPN Images)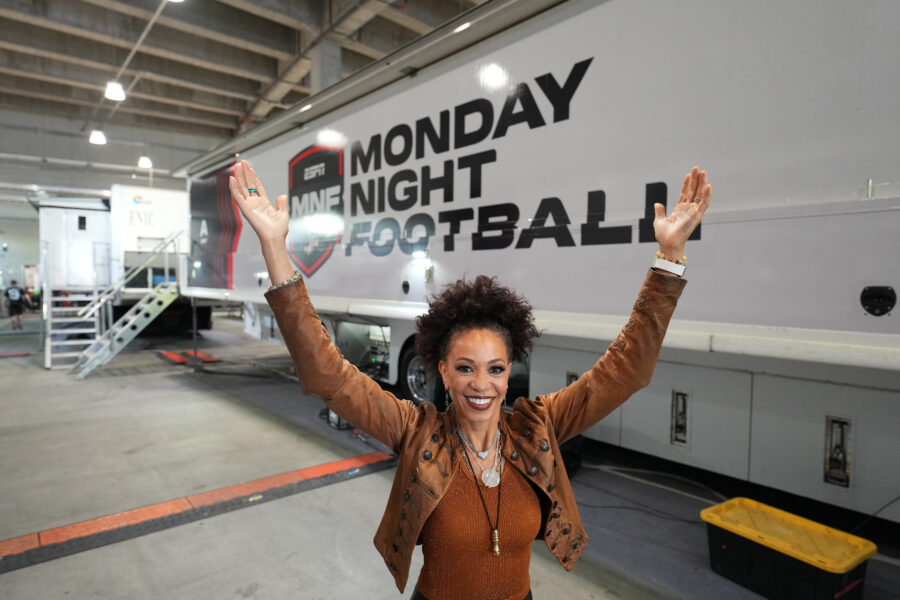 Legendary drummer and ESPN's "Monday Night Football Anthem" star Cindy Blackman, a Las Vegas resident, visited MNF's production camp. (Al Powers/ESPN Images)
Blackman Santana lives in Las Vegas but has ties back east. The musician lived in Bristol, Conn., – the corporate headquarters of ESPN – while she attended Hartt School of Music in Hartford.