SportsCenter
Eaves relishes first Olympic experience as he reports for SportsCenter from Rio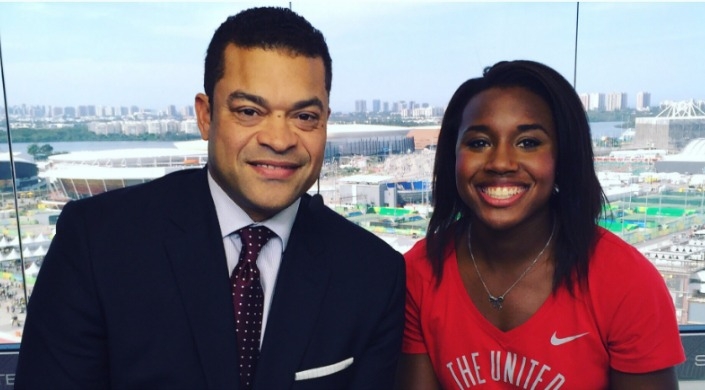 SportsCenter anchor Michael Eaves has covered hundreds of live events. This month, he added the Olympics to that list for the first time.
Eaves traveled to Rio for the entirety of the 2016 Summer Games, which conclude Sunday, as part of SportsCenter's extensive coverage of the Olympics.
Front Row asked Eaves to share some highlights from his month in Rio.
What has been your most exciting interview in Rio?
It would have to be the one with U.S. swimmer Simone Manuel. I have interviewed gold medal-winning Olympians in the past, but this was the first time I ever wore an Olympic medal, as she allowed me to put on one of her golds during our live interview on SportsCenter. Afterwards, I forgot to get a picture of me wearing the medal, though. Total fail on my part for sure!
How does Rio compare to other live events you've covered?
I have covered just about every major sporting event in the United States, but this is my very first time covering the Olympics, and there is no comparison when it comes to the overall scope and size of the Olympics. With so many different sports going on at so many different venues simultaneously, it is true sports overload. But as a fan, it's hard to beat.
What has been your biggest challenge in covering the Olympics?
Logistics. No question. With so many people here from our vast ESPN platforms, getting everyone to the various venues around town has been quite the challenge.
How have you and the ESPN team been able to overcome those challenges and deliver compelling content?
It's been a total team effort between all of the ESPN platforms represented here in Rio, but special recognition goes to [associate director, International Security & Safety Operations] Alix Dupoux from our security team and producer Jim Witalka. They have both gone above and beyond in working together to schedule transportation to the various Olympic venues and our shoot locations.