ESPN's 2023 NFL Draft Open depicts a journey to the event's host city, Kansas City. (ESPN)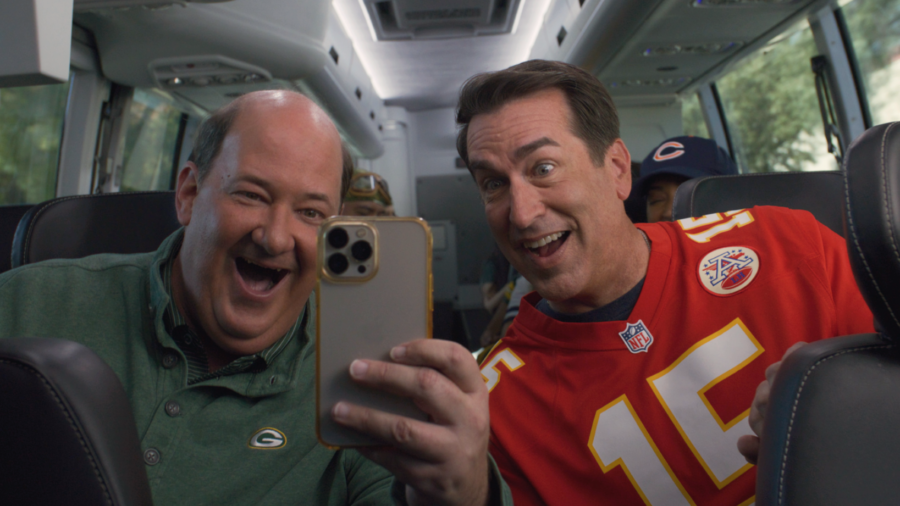 Brian Baumgartner (L) and Rob Riggle co-star. (ESPN)
The Jonas Brothers are among the celebrities making cameos. (ESPN)
Here's a behind-the-scenes look at the shoot. (Amanda Paschal/ESPN)
It's all about the Journey. (ESPN)
The Walt Disney Company's multi-platform coverage of the 2023 NFL Draft officially kicks off Thursday at 8 p.m. ET with an amusing Open on ESPN's coverage that will feature familiar faces.
Comedic actors Rob Riggle and Brian Baumgartner are among the celebrities featured in the Open that will depict a road trip to Kansas City, host of the NFL Draft proceedings this week and home of the defending Super Bowl Champion Chiefs.
2012 ESPYS host Riggle has starred in multiple features including "The Hangover," "Step Brothers, and "Talladega Nights: The Ballad of Ricky and Bobby." In addition, Riggle has had memorable stints on "Saturday Night Live" and was a correspondent on "THE DAILY SHOW WITH JON STEWART."
Riggle recently released the documentary "Plastic Earth," focusing on the efforts to solve the plastic pollution crisis on our planet.
He's also a noted Chiefs fan.
Baumgartner portrayed "Kevin Malone" in the classic sitcom "The Office." The avid Packers fan was a featured player in a star-studded 2022 ESPN Monday Night Football Open before Aaron Rodgers' final MNF appearance in a Green Bay uniform.
Amanda Paschal, Managing Producer, is one member of ESPN's Creative Content Unit who works with teammates across the company to make this and many other Opens (see examples below).
"One of my favorite things about working on the NFL Draft is highlighting the emotion of a draftee hearing his name called," Paschal said regarding the ESPN NFL Draft Open, which was shot in Los Angeles.
"It's a key component to our Open and it never grows old watching previous reactions from draftees as their family, friends, and fans join together in the celebration of hard work paying off. This Open is about the draftees' journeys to reach that moment."
She answered some questions for Front Row.
What makes a great Open?
The opening tease to a game is the creative storytelling piece that sets the viewer up for what's to come. It provides them with the backstory of the matchup, the stars to watch for, and what's on the line that evening. A great opening tease brings together all of those elements and tells them in a unique and creative way.
"This is a 1,000 times better than it possibly could be, & that's all thanks to Bret & Brian just giving it their complete & absolute all to make this what it is."

– Amanda Paschal, ESPN Creative Content Unit managing producer via @gbpressgazette

🔗https://t.co/qAyWHbpdk0 https://t.co/KKZbXVyOlE

— ESPN PR (@ESPNPR) December 20, 2022
Which Open are you proudest of and why?
I'm proud of every opening tease for a multitude of reasons, but the one that sticks out to me the most is the 2022 NFL Draft opening tease. Behind the scenes, we had to overcome so much.
There were hurricane-force winds on the day of our shoot in Las Vegas, and our entire outdoor shoot had to flip to an indoor green screen shoot two hours before the crew call. We had to find a new location, rework the lighting plan, and adjust our post-production plan. It was a lot for us to figure out in a short amount of time!
Once we got through that, we traveled to LA to film with [Los Angeles Rams and Super Bowl champion quarterback] Matthew Stafford.
Upon landing in LA, we found a COVID exposure on the Las Vegas shoot, so we had to alter our entire production plan to keep our talent and the LA crew healthy. It was one thing after the other!
It was a total team effort getting to the finish line, and when you view the end product, you'd have no idea what we had to overcome as a team. I'm so proud of the way our team adapted and stayed positive.
🏈 ESPN's Creative Content Unit joined forces with Giancarlo Esposito— from #TheMandalorian — to open tonight's #SuperWildCard broadcast at 8:15p ET

🌌 Exclusive trailer of the new season of the @DisneyPlus show airs during halftime ✨

📺 | ESPN, ABC, ESPN2, ESPN+ & ESPN+ pic.twitter.com/qC0TrQOYaL

— ESPN PR (@ESPNPR) January 16, 2023
2023 ESPN NFL DRAFT OPEN PRODUCTION CREDITS
Craig Lazarus – VP, Executive Producer Original Content & Features
Julie McGlone – VP, ESPN Creative Content Unit & SportsCenter Enhancement Unit
Aimee Stokes – Senior Managing Producer, ESPN Creative Content Unit
Amanda Paschal – Managing Producer, ESPN Creative Content Unit
Rico Labbe – Director, ESPN Creative Content Unit
Lucas Robbins – Production Assistant, ESPN Creative Content Unit
Brian Arndt – Writer
Justin Belcher – Post Creative Supervisor, ESPN Creative Studio
Amanda Winkler – Editor, ESPN Creative Studio
Thomas Beers – Supervising Effects Artist, ESPN Creative Studio
Eric Frieler – Supervising Effects Artist, ESPN Creative Studio
David Jaunai – Sound Designer, ESPN Creative Studio
David Sorafine – Director of Photography
Christopher Viglone – Camera Operator
Paul Auerbach – Camera Assistant
Felipe Mendoza – Audio Technician
Nathan Rupp – Gaffer