EDITOR'S NOTE:  Next week, Mike Soltys completes a remarkable 43-year career at ESPN. Rising from an intern – the first intern hired by founder Bill Rasmussen – in 1980 to become Vice President of Corporate Communications. Soltys has helped pilot ESPN from unknown upstart to a brand with worldwide recognition. He nurtured ESPN Front Row. In this installment of Intern Chronicles, new ESPN Communications intern Ashley Hatstadt asks first intern Soltys for sage advice.
In this  "intern-to-intern" conversation, Mike Soltys provides valuable insight into his amazing career at ESPN, a journey that began by sorting through mountains of mail. Soltys describes how he got his internship, the highlights of his many adventures, the lessons he's learned and the advice he'd give ESPN's current intern class. The world of sports in 1980 was much different before ESPN's ambitious objectives came into play, and we get to hear the "come up story" from Soltys himself.
What's the best advice you could give someone like me and my fellow intern class at ESPN?
To recognize you've been given an amazing opportunity and the opportunity as an intern at ESPN can be life-changing. It was for me, and there are a lot of people that to this day are employed at ESPN who started as interns. The main thing is to recognize the opportunity, seize the moment and meet everyone you can for anything offered to you. It's a very short period, so it's really up to you to see what's there. If nobody's telling you, 'Here's something to do,' ask about it. Make the most of these limited weeks that you're at ESPN.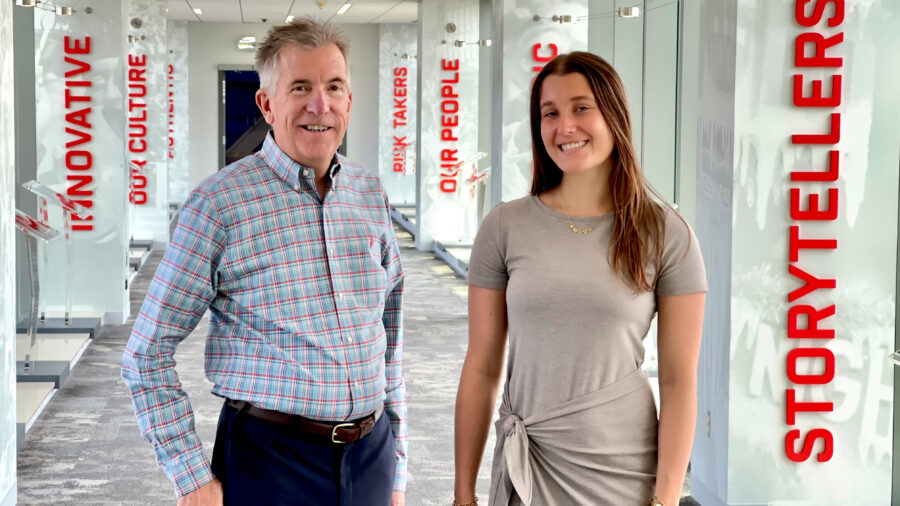 As you reflect on 43 years at ESPN, what are some themes that you take away?
My entire adult life has been working in Bristol, and fortunately, I had this lifetime of great experiences. In any given year, I would have more experiences than the average person would have in a lifetime, and I'm greatly appreciative of that. There's the second part of it, which is that you get to work at ESPN with all these smart, high-energy people, and it's a great opportunity to do good work, but it's always a great opportunity to foster relationships. And now, I leave with lifelong memories, but also a lot of people who will be lifelong friends.
Soltys describes what he asked one intern to do to help ESPN commemorate 10K SC episodes
What is the most memorable ESPN event that you attended?
I had the good fortune to go to three World Cup openers, and the World Cup was a signature of ESPN until recent years. We believed in the World Cup before any other media company believed in it. 
The opening game in South Africa [2010] and the opening game in Brazil [2014] showed me how much sports meant to those countries. South Africa was not very far removed from apartheid, and here they were, hosting the world's greatest event. You just saw the pride and the excitement from the people that lived in those countries where they were hosting the World Cup. And that just came through in those opening games with tremendous enthusiasm.
Bill Rasmussen, the founder of ESPN, hired you. What did his first ESPN intern do?
Bill still jokes to this day that he offered me the internship because I said the magic words, 'I'll work for free.' 
He connected me with Rosa Gatti, the head of PR at the time and one of the pioneering women executives in sports and a legendary Hall of Fame PR person in her career. 
My main task was that many teams and schools flooded ESPN with mail about their programs. I was tasked with going through – I'm not exaggerating – mountains of mail to try to find the things we might be interested in. Then it was a lot of writing press releases on the taped college football we had or the college basketball we had.
Describe what pitching media who were not sold on ESPN's ambitious objectives was like.
ESPN at the time was a startup, and people today have a hard time understanding that. We believed in what we were doing, and everybody brought this tremendous energy and creativity to everything they did. 
There was no bureaucracy or process to get 10 approvals on things. Greatness could come from what people worked on, and it did on a regular basis. 
The challenge that was funny looking back was when I was talking to the media around the country and trying to convince them that the idea of 24 hours a day of sports was a good idea. 
In people's heads, sports were on the weekends; that's when you saw it on TV. With the concept of it being 24 hours a day, many people felt that we were looking for someone to watch it 24 hours a day, not that we were looking to make it available to whatever your schedule is, whatever your interests were. That was a hard sell on the media in the early days, but the promise came to life soon enough, and people understood it.