EDITOR'S NOTE: Welcome to the latest installment of Front Row's "Team Player" series, where an ESPN commentator selects a behind-the-scenes colleague to spotlight.
ESPN lead Bundesliga commentator Derek Rae is preparing for Germany's fiercest rivalry match with help from sr. associate producer Kostas Karipidis. Both will work together on Der Klassiker coverage live from Dortmund's Signal Iduna Park on Saturday, beginning at 12:30 p.m. ET.
Matchday 10 of the 2023-24 Bundesliga season will feature Der Klassiker on ESPN+, one of German football's fiercest rivalries  – FC Bayern München versus  Borussia Dortmund. Remote productions 3,600 miles away are always a team effort.
Front Row caught up with Rae while waiting for his flight en-route to Dortmund, Germany, to commentate on Saturday's Der Klassiker, to find out how Kostas, a native of Darmstadt, Germany, is a true team player.
What attributes does Kostas have that make him successful in his role?
Kostas really cares deeply about the productions he works on and the people who form part of his team. It really is that simple. As a lover of international football, his passion shines through. While it's his job to be at the forefront of coverage of this sport, it helps that it's also in a sense his hobby. If he weren't working on the matches, he would still be watching and that is not always the case in our business. Kostas takes the time to find out what makes his co-workers tick.
In what ways has Kostas proven to be an important part of the success of Bundesliga productions at ESPN?
It's just a natural fit. Kostas grew up in Darmstadt with the Bundesliga part of the "Alltag, to use the German expression, his everyday life. When ESPN acquired rights to the Bundesliga, I was fairly sure and also hopeful he would play a significant role in the productions. He doesn't have to read up on the history of the league: it's part of who he is and that's a huge resource that ESPN rightly tapped into. We all have our football preferences. Some colleagues would prefer to follow the Premier League or LALIGA which is, of course,  fair enough but Kostas is producing the league he truly loves most. When something is in your heart, it's always going to be special.
Could you share a favorite memory of Kostas going above and beyond?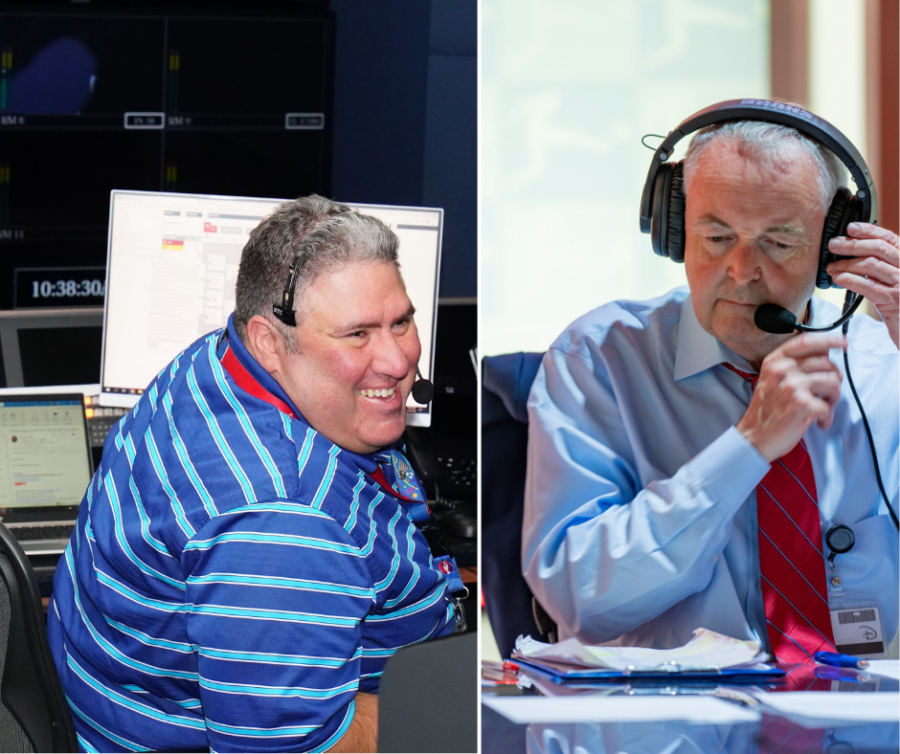 Kostas on working with Derek
From the very beginning of my 21+ year career at ESPN, I have had the privilege to work on the biggest soccer leagues and competitions in the world with Derek. He is a true professional and undoubtedly one of the best in the business. Our nostalgic love of German soccer and language kept us connected through the years. When ESPN acquired the Bundesliga rights in the U.S. a few years back, there was little doubt that we would end up working together on this league we love. Derek lives and breathes German soccer. He is THE English voice of German soccer not only at ESPN but worldwide. To be able to work together with Derek as a teammate and working daily to bring our passion and love of the Bundesliga to anybody who is willing to watch and listen is truly inspiring and a dream come true.